BeautyCell Lift Treatment
No Surgery Facelift Procedure in New Canaan, CT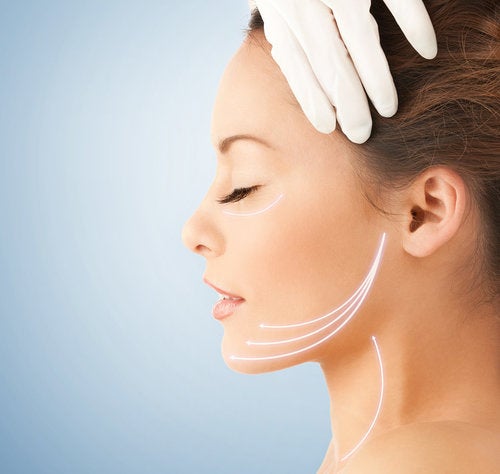 What is BeautyCell Lift?
BeautyCell Lift offers a way to restore shape and volume, improve tone and texture, rejuvenate collagen growth and give you a more youthful, attractive look. Dr. Littzi is an artist. She customizes the injectables per patient to enhance your own beauty. You will never look "done" or "fake" Dr. Littzi has 25 years of experience with injectables and happy patients. BeautyCell Lift is a remarkable way for anyone over age 18 to improve their face, neck, and décolleté appearance without surgery or downtime.
How does BeautyCell lift work?
Gravity and aging have effects on our appearance. Natural changes in our skin are accelerated by sun damage, allergens, toxins, and lifestyle factors. Your facial bones recede over time. BeautyCell Lift uses the science-based Forever Young BBL Light therapy and fillers if necessary. The BBL light therapy can diminish pigmentation redness and improve skin tone. Which is platelet-rich plasma releases growth factors into your skin to rejuvenate over time. The skin is rejuvenated in tone, color, texture, and fullness over a period of one to three months.*
*Results are typical but not guaranteed.
What will happen during the procedure?
Topical anestheia is applied to the patient's skin. The patient is treated with BBL therapy. Blood is drawn and growth factors are prepared in our office and these clear growth factors are injected into areas that need improvement. Growth factors are not a filler, they will give you a naturally fuller appearance. Fillers may or may not be used as well. Patients are comfortable and pain-free and look great when they leave the office.
How many treatments will I need?
Younger patients will need treatments every one to three years. From age 40 on yearly treatments should be performed on both men and women.
Top 10 advantages of BeautyCell Lift over a traditional Surgical Facelift
1.) No anesthesia except topical
2.) No Cutting
3.) No downtime
4.) 3-D improvement as opposed to 2D pulling on face
5.) Skin appears brighter
6.) Can be repeated
7.) No side effects except possible bruising
8.) No pain after treatment
9.) Natural look
10.) Lips and eyes can be improved
What Sets Us Apart?
Natural-Looking Results
Over 20 Years Experience
Harvard-Trained Physician
Treating Children And Adults
Board Certified Dermatologist
Focus On No Pain, No Downtime
Your Safety Is First And Foremost
Cutting-Edge Cosmetic Treatments
Highest Quality, Comprehensive, Personalized Medical & Cosmetic Dermatologic Care