BTL EMSCULPT® Non-Invasive Fat Removal & Muscle Toning Body Contouring Treatment
Build Muscle & Burn Fat without Surgery in New Canaan, CT
EMSCULPT® is also the first non-invasive butt lift procedure!
Call today to schedule your consultation with Dr. Sharon Littzi.
At Aesthetic Dermatology of Fairfield County, Dr. Sharon Littzi is committed to providing advanced, effective and minimally invasive cosmetic procedures to enhance the lives of her Connecticut patients which is why she is among the first dermatology practices to offer EMSCULPT® to tone tummies and lift buttocks.
---
96% PATIENT SATISFACTION WITH EMSCULPT®
---
If your workout routine or diet regimen is not delivering the results you want, EMSCULPT®  can help you get the sculpted stomach or defined backside of your dreams*!
Benefits of EMSCULPT® 
Patients typically experience a 20% reduction of fat
Studies show an average 20% increase of muscle mass
Non-surgical and non-invasive with no incisions or injections
No downtime
Builds ab muscles/Lose belly fat/improve muscle tone
Creates lift in the buttocks/ gluteal muscle toning
Safely repeatable for fully customized treatment
Empsculpt can help to enhance the physique, by providing a:
Sexy, well-toned stomach
Improved muscle definition
Non-invasive butt lift
The results listed above are typical but not guaranteed.

The World's Only Procedure to Simultaneously Build Muscle & Burn Fat
Getting the body you want isn't only about getting rid of unwanted fat which is what current body contouring address*. More than one third of one's body is comprised of muscle. EMSCULPT® is the only procedure to help both women and men build muscle and burn fat*. Plus, it is the first non-invasive butt lift procedure.
How Does EMSCULPT® Body Sculpting Work?
The non-invasive HIFEM® (High-Intensity Focused Electromagnetic) technology induces supramaximal muscle contractions not achievable through voluntary contractions.
When exposed to supramaximal contractions, the muscle tissue is forced to adapt to such extreme condition. It responds with a deep remodeling of its inner structure that results in muscle building and fat burning.
What Areas Can I Treat with EMSCULPT®
EMSCULPT® is FDA-cleared for the abdomen and buttocks. Areas well-suited for this body shaping treatments may include:
Abdomen
Buttocks
Triceps (upper arms)
Thighs

Sculpt a New You with EMSCULPT®
On average the following were achieved in clinical studies in healthy patients. While the results below are typical they are not guaranteed.
20% reduction of fat*
4 cm (1.5 inches) loss in waistline circumference
20% increase in muscle mass*
11% reduction in abdominal muscle separation (called diastasis recti)
5 x increase in fat metabolism (apoptotic index increased from 19% to 92% after treatment)
80% patients with visible lifting effect of buttocks
96% patient satisfaction
A single EMSCULPT® treatment is the equivalent of doing approximately 20,000 sit ups or squats.
---
Frequently Asked Questions About EMSCULPT®
What is the Treatment Time for EMSCULPT®?
Each treatment session takes 30 minutes. And the most common treatment plan consists of four 30 minute treatement sessions 2-3 days apart. Dr. Sharon Littzi will work with you to create a tailored course of treatment based on your goals and needs.
Is There Any Downtime with this Treatment?
This non-invasive body contouring treatment requires no recovery time or any pre/post treatment preparation.
How Fast Will I See Results?
Immediately following treatment you will start to feel the results*. However, the most dramatic results are typically seen 2-4 weeks after the last treatment session and ocntinue to improve for a few more weeks past the 4th week*.
How Much Fat Will I Lose with a Series of Treatment?
According to clinical studies, patients had an average of a 20% reduction in fat and a 1.5 inch average loss in waistline measurements following a series of 4 EMSCULPT® treatments*.
Is This Treatment Painful?
EMSCULPT® is not painful, it simply feels like a series of strong muscle contractions.  Thinner patients may feel EMSCULPT® more, and decreased energies may be used during treatment.  Many patients tend to instinctively smile or laugh during the first few minutes, then the body adapts to the rhythm of muscle contractions and it's easily tolerated.
Many patients feel muscle soreness the following day, similar to how to how muscles feel the day after a good gym workout.
How Long Does EMSCULPT® Last?
The results you get from an EMSCULPT® procedure are long-lasting if you maintain your treatments like you were going to the gym. The results of the procedure can be undone with poor diet and exercise.
How Much Does EMSCULPT® Cost?
The national average for a single session ranges from $750-$1,000. In order to get an accurate cost estimate for your EMSCULPT® procedure we recommend scheduling a consultation with Dr.  Sharon Littzi who can create a tailored plan based on your individual needs as not everyone will require the same amount of treatments. After the consultation we can provide an exact estimate for how much EMSCULPT® will be for you.
Am I a Candidate for EMSCULPT®?
Anyone with unwanted fat can benefit from EMSCULPT®. We find that patients who are close to their goal weight or body see the best results. If you have questions about whether this treatment is the best option for your needs and wants give us a call today at 203.966.2336 to schedule your consultation.
*results typical but not guaranteed.
The result photos shown below show typical results but these results are not guaranteed.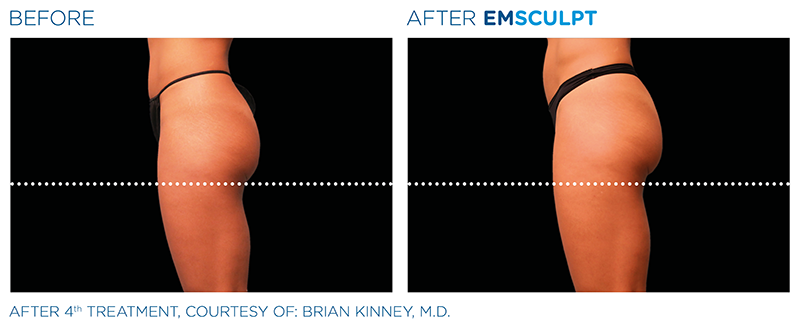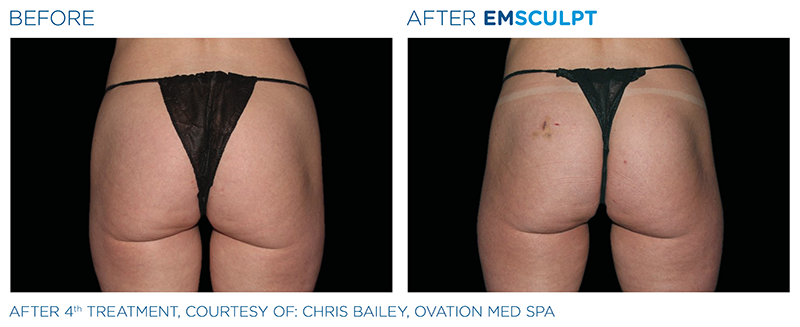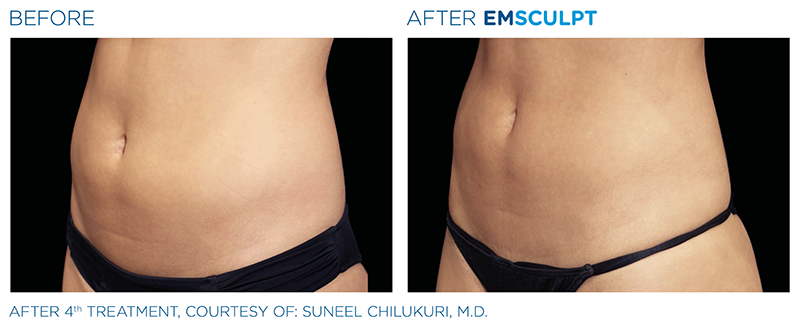 What Sets Us Apart?
Natural-Looking Results
Over 20 Years Experience
Harvard-Trained Physician
Treating Children And Adults
Board Certified Dermatologist
Focus On No Pain, No Downtime
Your Safety Is First And Foremost
Cutting-Edge Cosmetic Treatments
Highest Quality, Comprehensive, Personalized Medical & Cosmetic Dermatologic Care