VIORA Reaction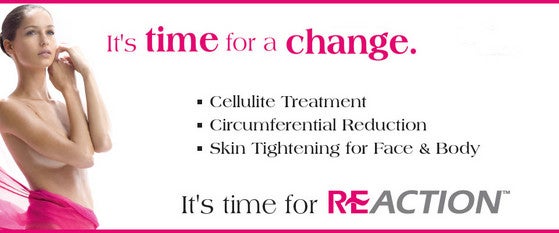 The VIORA Reaction™ is a safe, non-invasive and effective method to treat cellulite, promote circumferential reduction and tighten lax skin on the face and body.
*Skin Tightening for aging & lax skin on the face and body
*Cellulite Treatment
*Circumferential reduction
You know what cellulite looks like. But do you know the cause?
Fat cells in the subcutaneous layer are arranged in chambers surrounded by bands of connective tissue called septae. As the volume of fat cells increases, the surrounding septae contract and harden, unable to hold the cells within the existing parameters. This causes the fat cells to push up against the skin surface, resulting in a dimpled skin appearance, also referred to as the lumpy, 'cottage-cheese' effect.
Using CORE™ technology, VIORA Reaction™ employs RF energy to the subcutaneous layers to heat the skin tissues that contribute to cellulite.
This deep tissue heating increases the metabolic breakdown of adipocytes in the superficial fat layer and increases the diffusion of oxygen in the cells. At the same time, the vacuum therapy intensifies the treatment to facilitate deeper penetration of heat, stimulate lymphatic drainage and enhance the elasticity of the septae. The treatment is suitable for multiple areas of the body including the buttocks, thighs, abdomen and underarms.
Skin Tightening
Fibroblasts are the major cells in the dermis which produce collagen and elastin fibers. The thickness of the dermis varies from person to person and is affected by age, exposure to sun, cigarette smoke and environmental pollution. First signs of skin aging include uneven skin tone and texture, wrinkles and folds around the eyes and mouth, and stretch marks on various areas of the body. VIORA Reaction™'s Skin Tightening procedure utilizes RF energy to stimulate existing collagen and elastin fibers, enhance collagen secretion, and improve skin's elasticity over time. From the very first treatment, collagen fibers are contracted, giving an immediate firmed and tightened appearance.The procedure is suitable for most areas of the face including the jowls, cheeks and forehead as well the sensitive areas of the eyes, neck and decollete. And now, unlike any other system, VIORA Reaction™'s skin tightening treatments can also treat stretch marks and lax skin on various areas of the body such as the tummy, underarm, calves and hips.
What Sets Us Apart?
Natural-Looking Results
Over 20 Years Experience
Harvard-Trained Physician
Treating Children And Adults
Board Certified Dermatologist
Focus On No Pain, No Downtime
Your Safety Is First And Foremost
Cutting-Edge Cosmetic Treatments
Highest Quality, Comprehensive, Personalized Medical & Cosmetic Dermatologic Care