Kybella Treatment
Eliminate Your Double Chin with Kybella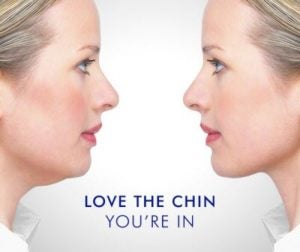 Once it's gone, it's gone for good!
Are you self-conscious about your profile? Do you look in the mirror and don't like your "double chin"?  Dr. Littzi can help restore tightness and lessen the fullness in your lower chin.
Kybella is the only FDA-approved injectable treatment that destroys fat cells in the treatment area under the chin to improve your profile. If you are tired of fullness under your chin, Kybella can help fix it. Shrink your double chin with Kybella!
What is Kybella?
Kybella was known during its development as ATX-101 and is also known as deoxycholic acid, a naturally occurring molecule in the body. When injected into the fat, Kybella causes the destruction of localized fat cells. Our board-certified dermatologists were part a select group of physicians first in the country to be trained by Kythera, the company that makes Kybella.
How is the Kybella treatment performed?
Kybella is administered in office as a series of small injections into the fat tissue under the chin. Multiple treatments may be necessary and are typically spaced a month apart.
Who is a candidate for Kybella?
Kybella is an excellent choice for men or women with excess submental fat causing the appearance of a double chin. Kybella is a non-invasive procedure, making it an excellent choice for patients wanting to avoid more invasive procedures such as liposuction.

When will I see results from my Kybella treatment?
Fat reduction in the area of treatment is gradual and improves over a period of weeks to months.
What is the downtime for Kybella?
Normal side effects include bruising and swelling, like with any injection treatment. The FDA also reported possible side effects of redness, numbness, and firmness in the injection areas.
Can Kybella be used on other areas of the body?
Using Kybella for the treatment of fat outside of the submental area is not approved and is not recommended.
Put your best chin forward with Kybella double chin fat reduction treatment.
Call today 203.966.2336 to schedule your appointment or book your appointment online.
Kybella Before & After
What Sets Us Apart?
Natural-Looking Results
Over 20 Years Experience
Harvard-Trained Physician
Treating Children And Adults
Board Certified Dermatologist
Focus On No Pain, No Downtime
Your Safety Is First And Foremost
Cutting-Edge Cosmetic Treatments
Highest Quality, Comprehensive, Personalized Medical & Cosmetic Dermatologic Care