Vascular Laser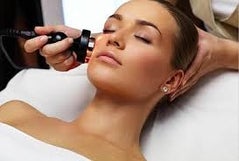 Age spots, red capillaries, freckles, rosacea, moles, and sun damage all are common skin conditions that can make the skin look older. Finally, there is a safe and effective way to minimize the appearance of these bothersome skin conditions—the Iriderm Diolite Laser. The Iriderm laser uses an intense beam of light to target the affected area, resulting in younger healthier looking skin.
The Iriderm Laser light is absorbed by red blood cells that carry oxygen, and by the brown or black pigment in skin (melanin). Once treated, the red or pigmented skin cells decompose and fade, while the laser spares nearby healthy cells.
Iriderm Laser treatments are performed as a short outpatient procedure ,most treatments are completed in a matter of minutes and usually do not require anesthesia. Dr. Littzi will direct the laser light by aiming a small wand device at the treatment area. You may feel a brief stinging sensation during or shortly after the treatment.
Following treatment with the Iriderm Laser, treated areas may appear slightly red. You will initially need to avoid sunlight and use a moisturizer. You should see results in about 1½ weeks to 3 weeks depending on the type of skin condition treated.
What Sets Us Apart?
Natural-Looking Results
Over 20 Years Experience
Harvard-Trained Physician
Treating Children And Adults
Board Certified Dermatologist
Focus On No Pain, No Downtime
Your Safety Is First And Foremost
Cutting-Edge Cosmetic Treatments
Highest Quality, Comprehensive, Personalized Medical & Cosmetic Dermatologic Care